Tablelands Day Hike
24 August 1989
by Bill Finch
Stranded at home with a case of shingles during the month of July 2008, my thoughts turned to the mountains where my body, mind, and spirit told me I should be. Memories of past trips kept popping into my head including a trip to the Tablelands that I took in 1989. The plan was simple enough. Take the trail to Alta Peak then move cross country to the Tablelands and return to the trailhead via the Pear Lake trail. It turned into a fun day hike which is described in this report. This was the first day hike I took after returning to the San Joaquin Valley in 1986. It was my last trip before the school year started. My mother climbed Alta Peak on a ranger-led trip during the 1930's and liked to talk about that trip and other memories of Sequoia from her childhood. I figured it was about time for me to go up Alta Peak myself. I started at Wolverton and took the trail toward Panther Gap through meadows and forest.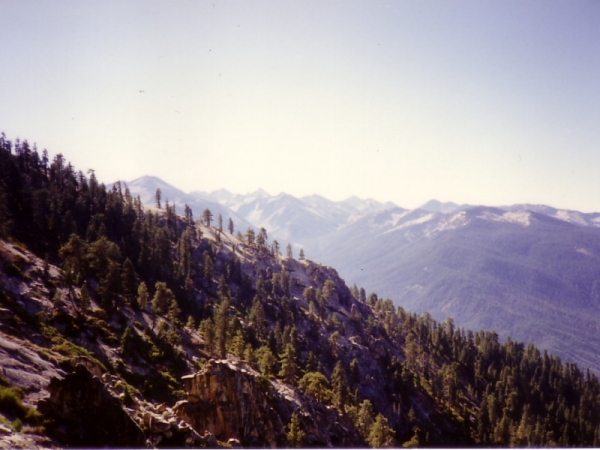 Kaweah River Canyon from Panther Gap
The trail ascended past impressive Tharps Rock and by noon I was at the summit of Alta Peak.
Tharps Rock from the summit of Alta Peak
There was an impressive view of Pear Lake to the north
Pear Lake from Alta Peak
and an incredible view of the Great Western Divide to the east.
Panorama of the Great Western Divide from Alta Peak
After a short break on the summit, it was time to move toward the Tablelands.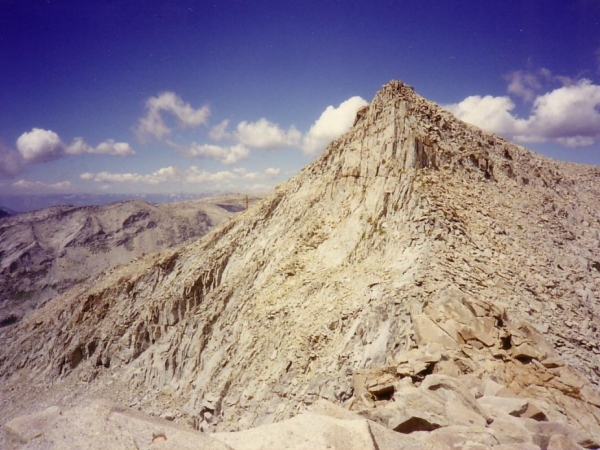 Alta Peak from the ridge to the east
The route looked straightforward but during the descent, clouds began to blow up from the Kaweah River Valley.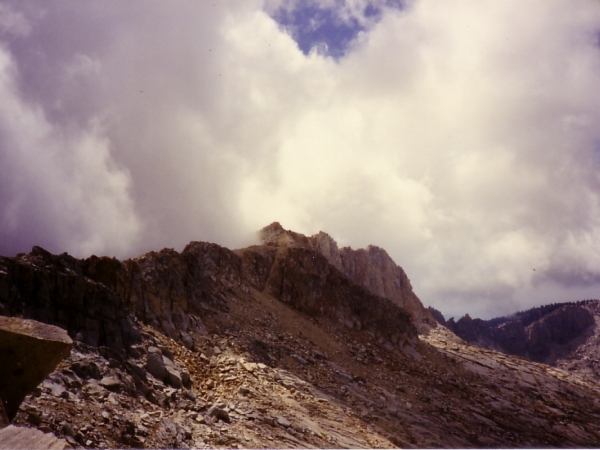 Clouds started rising from Kaweah River Canyon
I was a little concerned that I might get lost in the clouds but they stayed mostly in the valley and soon I was overlooking Moose Lake.
Moose Lake from the west
Several small lakes were visible to the north , so I headed toward them while looking for a use trail that could take me to Pear Lake.
Three of the many small lakes on the Tablelands
As I passed one of the lakes, I spotted some cool layering in the sediments on the shoreline.
Layers in shorline sediments
I found a promising use trail and descended toward Pear Lake, passing through grassy glades,
Grassy slope on the way to Pear Lake
skirting a charming tarn,
Tarn on the way to Pear Lake
and hiking across exfoliating granite.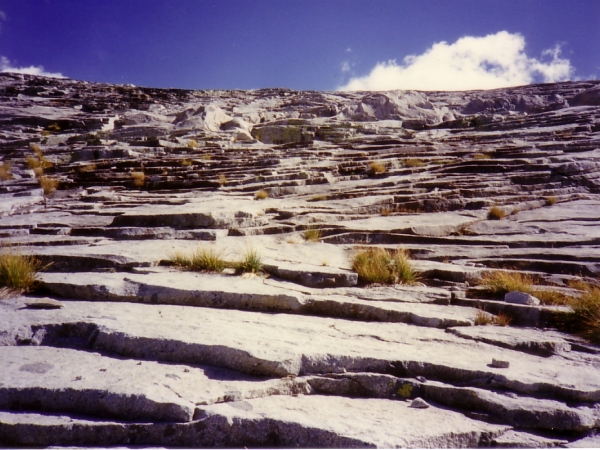 Granite exfoliating in sheets like the layers of an onion
The path contoured to the south and beautiful Pear Lake appeared. I spent a few minutes admiring the view then returned down the trail through forest and meadow to Wolverton.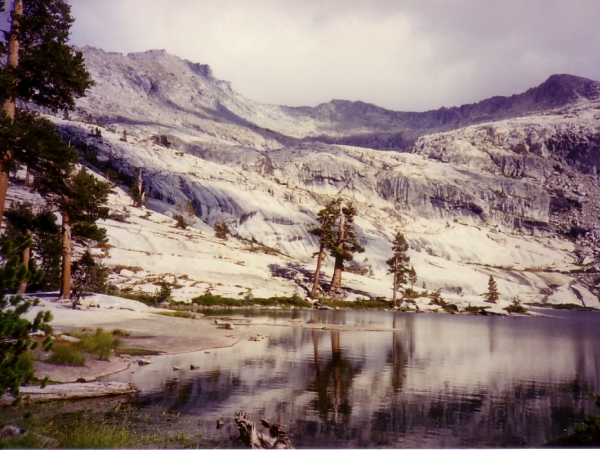 Pear Lake from the north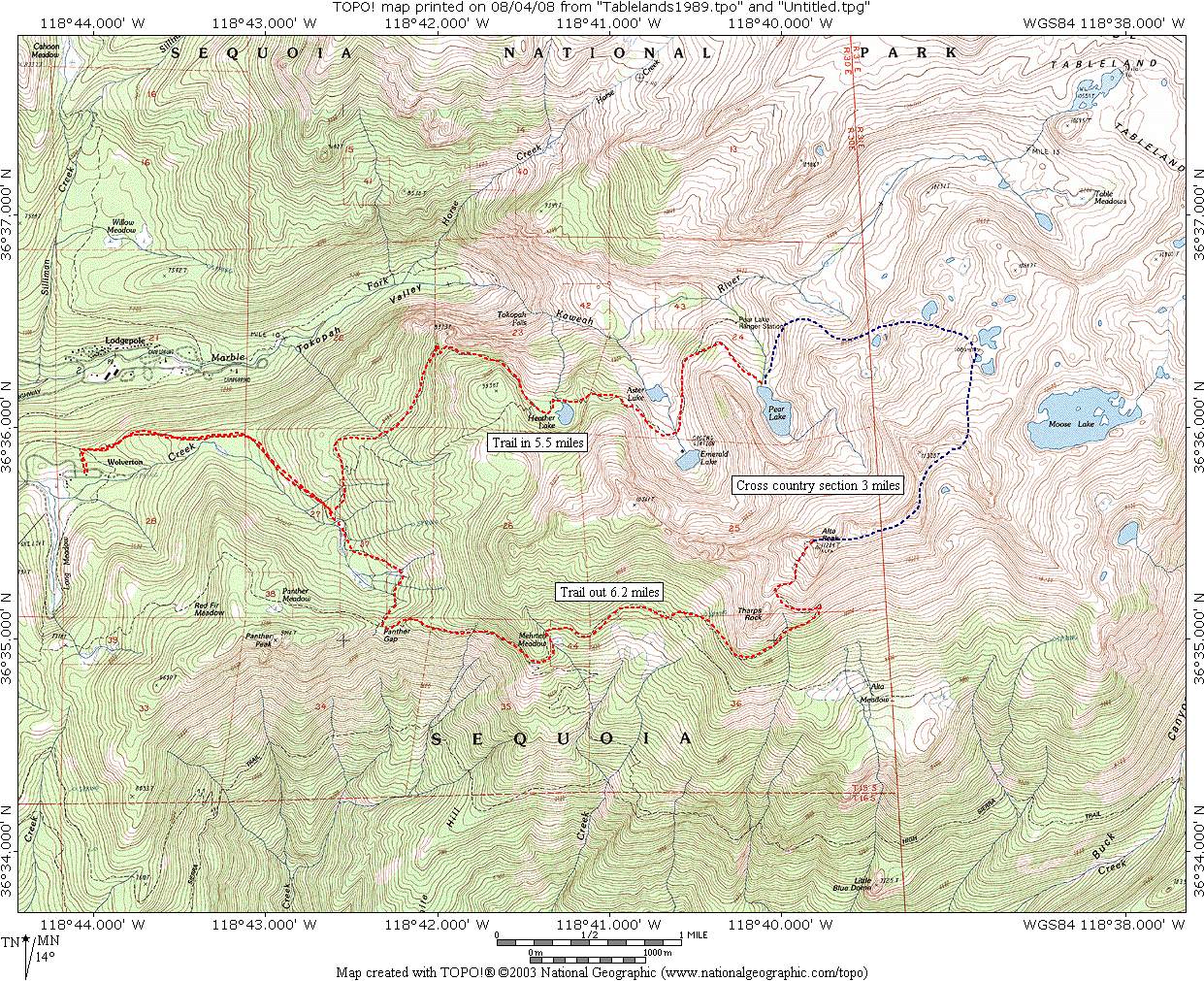 3 August 2008
One Page Version 20 January 2013