The hike out seemed to take forever. We got to the trialhead and agreed that it had been a good trip.
After a smoky drive to the Cliff Lake Trailhead, I hiked toward Dinkey Lakes, not knowing what to expect. Would I be turned back by a fire? Would I be in good enough condition to make it to Dinkey Lakes?
I made it to the base of the sitchbacks below Cliff Lake and found that the stream was dry. I have always taken a water break there and I wasn't looking forward to going up the switchbacks dry. By two o'clock, I was at the top of the switchbacks and looking forward to a water break at Cliff Lake. A little before three, I found a great campsite.
Cliff Lake camp
It was big enough for a small army and it had a nice rock for cooking and a great flat spot for sleeping. I talked to a couple of forest service guys who were doing an inventory of camp sites near Cliff Lake - it's a very heavily used area. I was too tired to go on to Second Dinkey Lake, my usual destination on trips to Dinkey. I spent the rest of the afternoon reading a novel. Apparently the smoke is coming from northern California, filling up the San Joaquin Valley, and spilling into the Sierra Nevada high country.
The smoke had cleared a little the next morning. A little before nine, I reached the pass into the Dinkey Lakes Basin. It was full of smoke but at least I could see blue sky - if I looked directly up. After a long talk with a fellow hiker next to Second Dinkey Lake, I finally started setting up camp at around eleven in the morning. The forest service crew I'd seen the day before passed by and I mentioned how I'd seen lots of alpine gentian flowers on the trip. One of them posted to iNat but he hadn't noticed them yet.
I decided that this was a good day to read and I managed to finish the book I had started the day before. It wasn't a bad experience and it kind of reminded me of several days I spent in Rome 54 years earlier reading the Fountainhead, or was it Atlas Shrugged.
On day three, I got serious. There were high clouds, but the smoke cleared out. I took the trail to First Dinkey Lake and along the way I ran into another patch of alpine gentian and a creek that produced ice-cold water, probably from a nearby spring. I passed by First Dinkey Lake.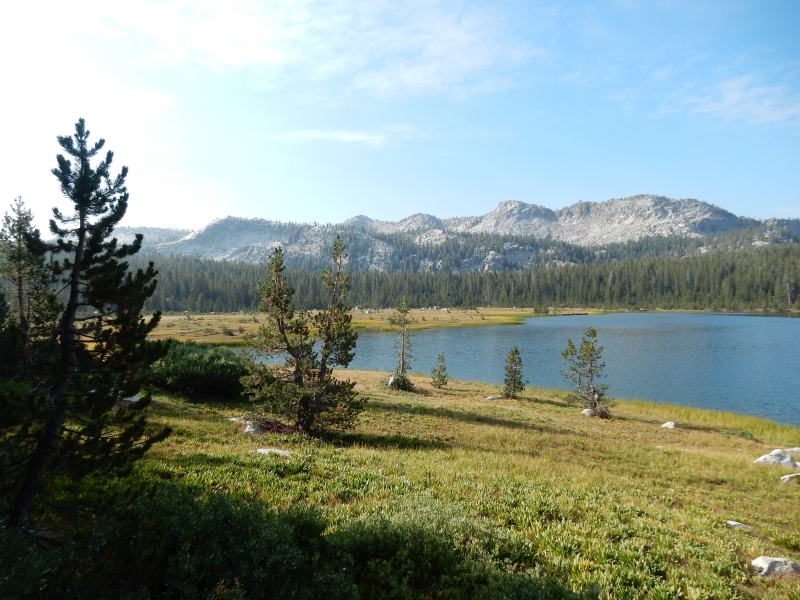 First Dinkey Lake with Three Sisters in the background
At nine, I took the trail that branches off to Coyote Lake. Within 15 minutes, I spotted Lewisia leeana in a lodgepole pine desert. Like all the rest of its observations during the trip, this plant was drying up and had no flowers. At 10am I started off trail and headed for the top of the ridge which consisted of a rocky lodgepole pine desert.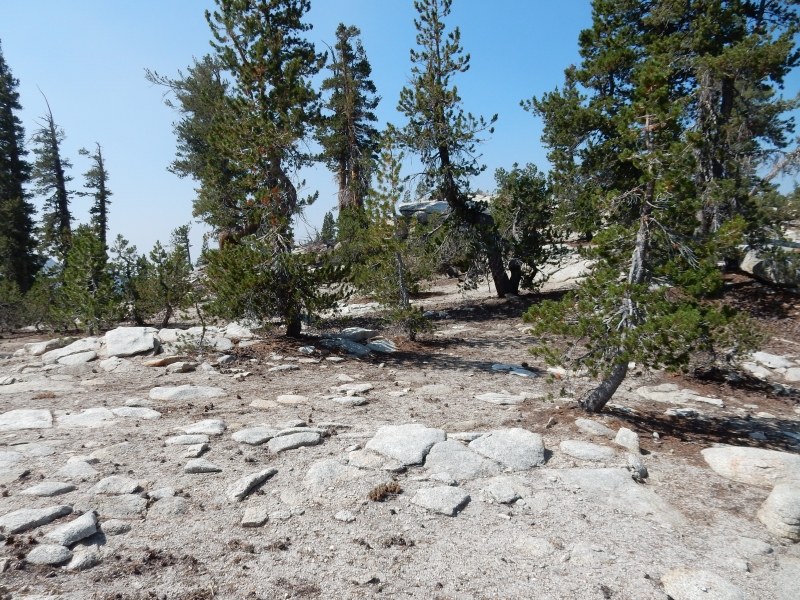 The ridge north of First Dinkey Lake was a rocky lodgepole desert
The landscape was as dry as any I've ever seen in the Sierra. At 10:26, I started to find a lot of L. leeana at about 9,700 feet elevation. As I continued north down the ridge, I continued to find L. leeana and other species of dried plants. I turned east and then back south making several more observations as I returned to First Dinkey Lake.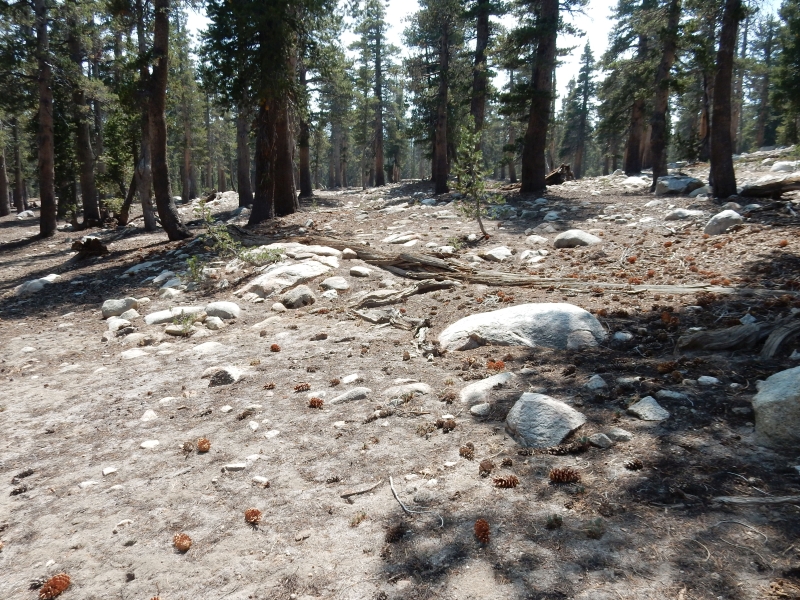 Lewisia leeana persisted in more lodgepole desert on the way back to First Dinkey Lake
As I got closer to trail I ran into a patch of alpine gentian in a dry meadow that went on for hundreds of feet, at least that's what I said in my audio journal.
Hundreds of alpine gentian in shorthair meadow on the way back to First Dinkey Lake
I was back to camp at Second Dinkey Lake by 4 pm.
It was smoky on my way out on the fourth day of the trip.
I think the highlight of the trip was all the alpine gentian that was blooming. It's such a pretty and subtle plant, often hiding in grass and daring to be found. I tanked up on water at Cliff Lake, knowing that there would be none for the rest of the trip. I was back at the trailhead by 3 o'clock.
20 August Observations
21 August Observations
22 August Observations
23 August Observations
25 October 2020