Courtright Reservoir to North Lake
25-30 July 1988
by Bill Finch
25 July
This was the first of several trips Craig and I planned while we were working in the Geology Department at Fresno State.
After a long day and many miles of mostly forest, we arrived at a campsite on the North Fork of the Kings River, just a couple of miles short of the Blackcap Basin.
26 July
We passed by the meadow near the turnoff to Crown Basin and had a great view of the west ridge of Finger Peak.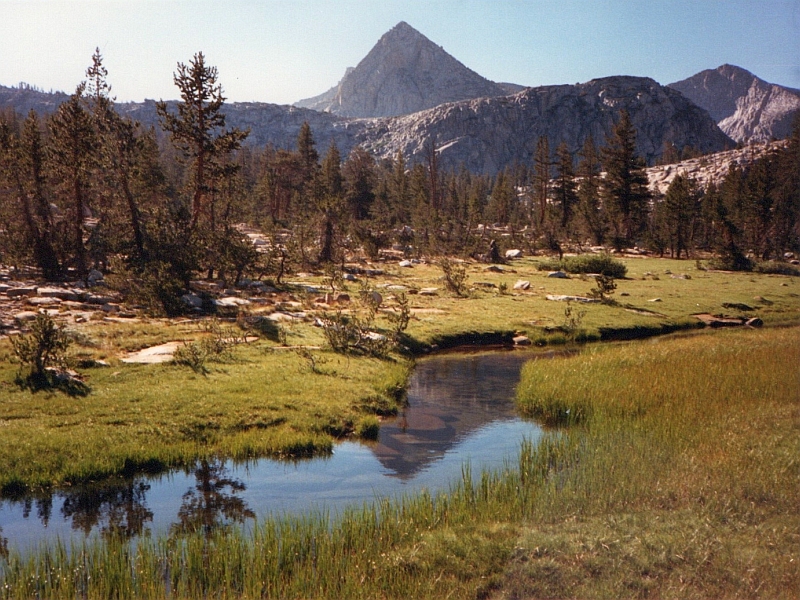 Blackcap Basin meadow and Finger Peak
We made our way past Portal, Pearl, and Division Lakes and dropped our packs at Regiment Lake. We climbed up the south ridge of Mt Reinstein where we had a great view of Mt Goddard which we hoped to climb the next day.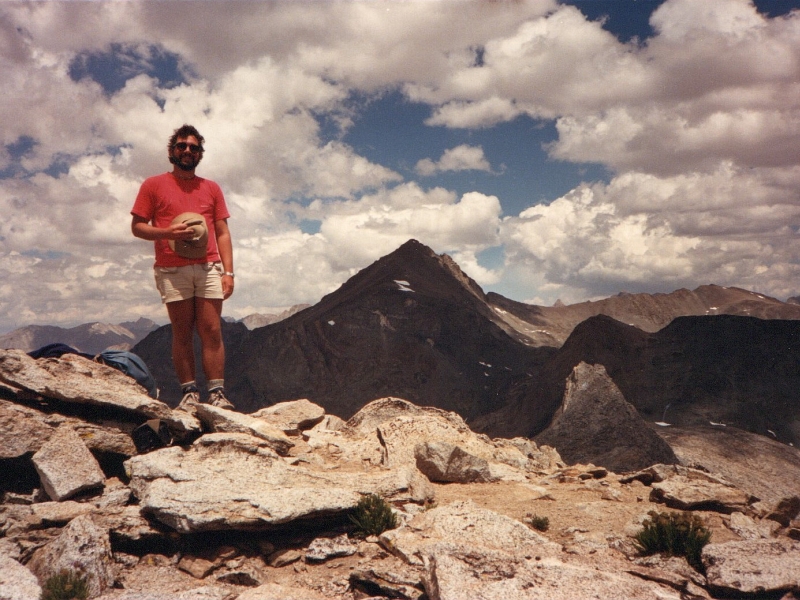 Craig on the summit of Mount Reinstein with Mount Goddard beyond
We slid down the southwest slope of Reinstein, retrieved packs from Regiment Lake, and moved to a camp at Ambition Lake.
27 July
The next morning we crossed Valor Pass and circled around Martha Lake.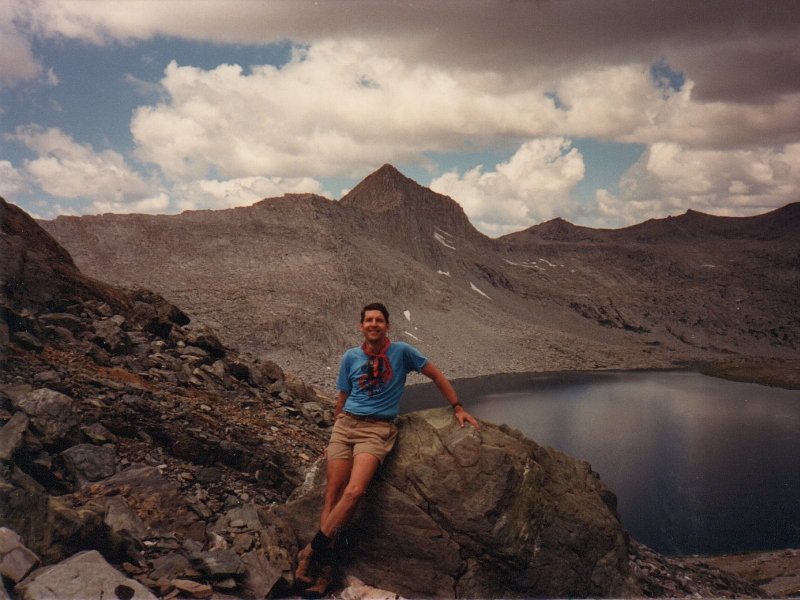 Bill posing in front of Martha Lake and the LeConte Divide
We dropped our packs at the base of the mountain. On our way up we were hit by wave after wave of hail. At the top of the ridge, a bolt of ligtning hit a couple of hundred feet from us. We decided that it probably wasn't a good idea to keep going. By the time we got back to our packs, they were almost covered with hail and we felt lucky to have found them. We retreated to a campsite near Martha Lake.
28 July
We slept well near Martha Lake then returned to Mt Goddard for a second attempt. The ascent was much easier than the day before due to the hail accumulation.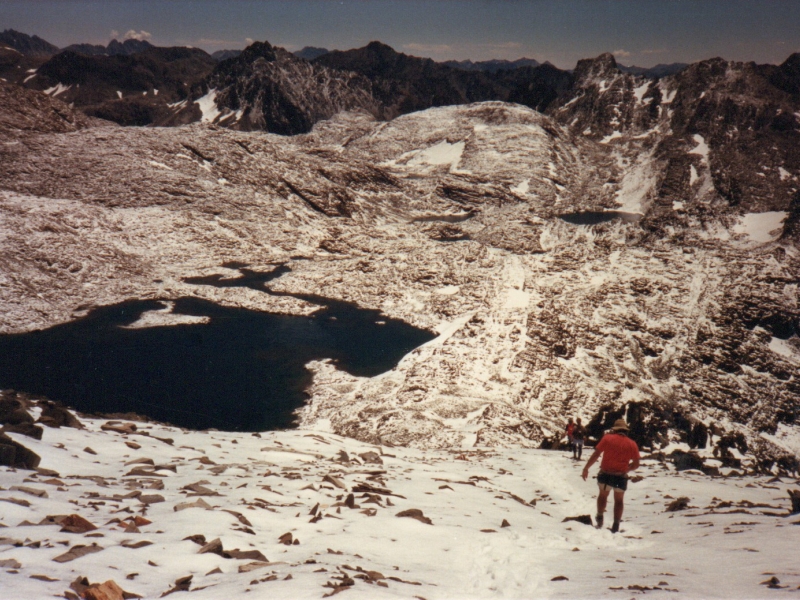 Craig skiing down the south slope. Ascent and descent of Mt Goddard was made easier by the hail accumulation.
We made our way through the Ionian Basin and had a great view of Mt Goddard on the way.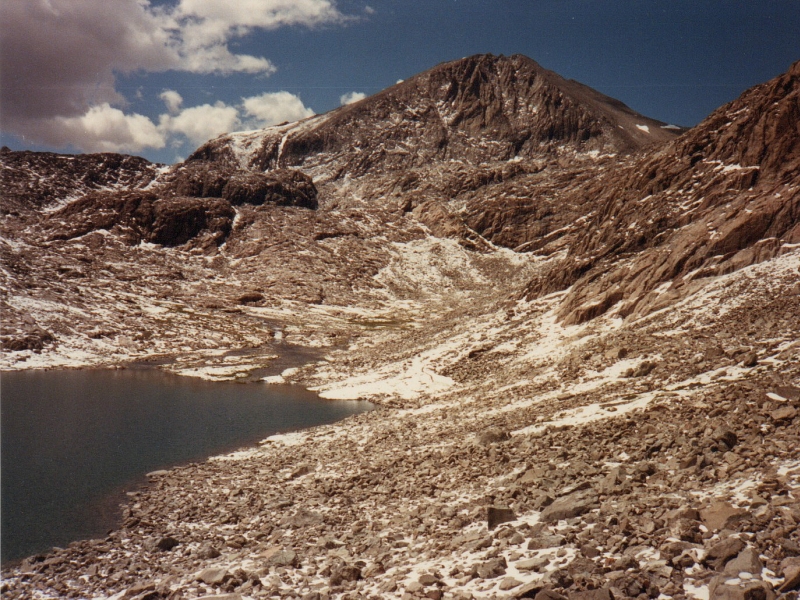 Winding through the Ionian Basin allowed great views of massive Mt Goddard.
We dropped our packs at Solomons Pass and headed for the summit. Clouds persisted but we didn't see much precipitation.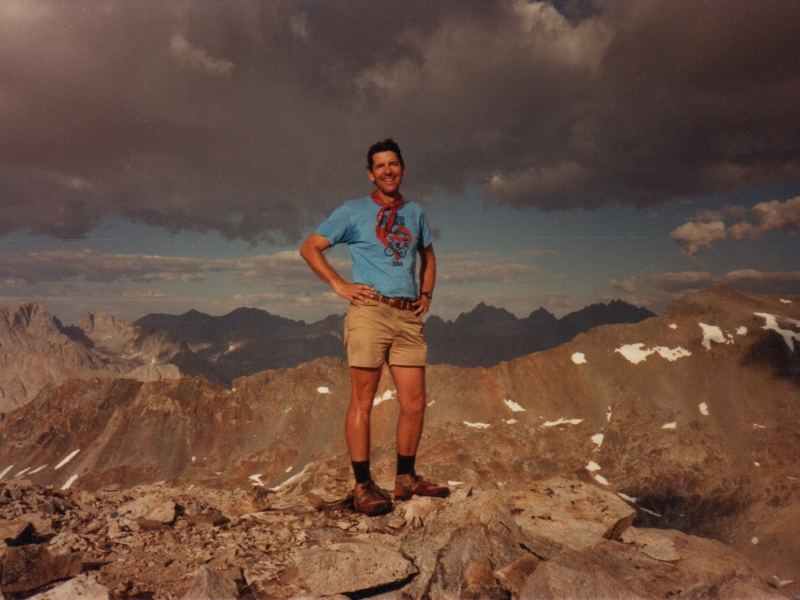 Clouds threatened on Mount Solomons but didn't dump a lot.
We returned to Solomons Pass and stumbled down loose talus to the JMT. We followed it to the outlet of Wanda Lake, had dinner, and set up camp.
29 July
Our next destination was the lower reaches of Darwin Canyon. We camped near small lakes hoping for decent fishing.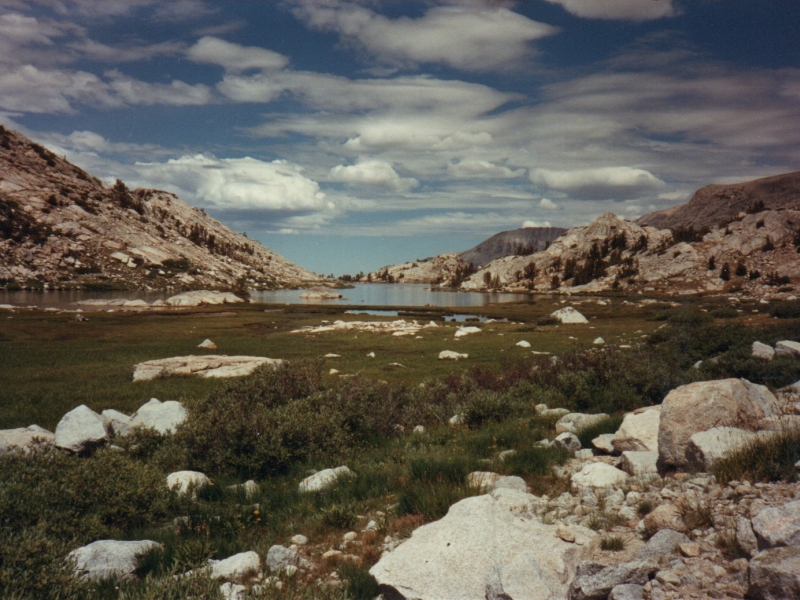 After poor luck in a number of nearby lakes, we had to settle for enjoying the lovely scenery.
Since the fishing was not great, we decided to leave the next day.
30 July
We enjoyed the fabulous views in Darwin Canyon on the way toward Lamarck Col.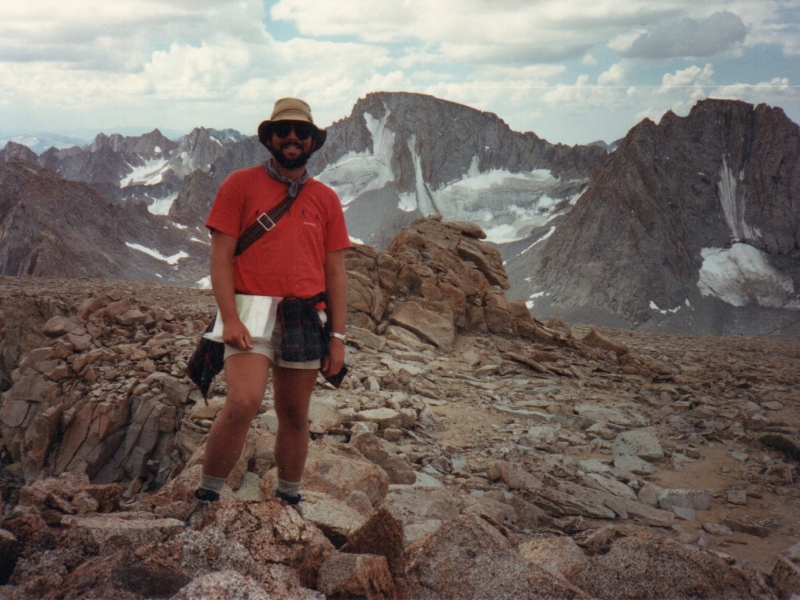 Craig near Lamarck Col with Mount Darwin in back.
We slid our way down the ice field below the pass, tiptoed over loose blocks and finally arrived at North Lake where we hitchhiked our way to Bishop.