Bench Valley
29 August - 1 September 2017
by Bill Finch
The purpose of this trip was to search for
Lewisia leeana
north of Blackcap Mountain. I found plenty of flowers and mushrooms but no
Lewisia leeana
, a plant I have been mapping in the John Muir Wilderness for the past few years.
The hike started at the Maxson Trailhead. The last time I was there was in 2015 in an attempt to take
the trip
I just completed. I had to abort it due to smoke from the Rough Fire.
It was a beautiful day and I had ambitious plans. I was hoping to get to Big Maxson Meadow at the end of the day but had to settle for a nice spot on the North Fork of the Kings just south of the Devil's Punchbowl turnoff. Heavy rain fell three times during the night. Some involved thunder and lightning. One flash was followed by a crash less than a second later. Fortunately, it must not have hit a tree or I would have seen smoke nearby the next morning.
Rain continued the morning of the second day. Big Maxson Meadow looked about the same as last time I saw it except the smaller cabin is falling down more. The turnoff to Bench Valley took me up steep trail that had seen some use this season. It was rougher than I remembered.
Fall Creek and North Fork Kings Canyon
The trail descended into Fall Creek canyon then climbed steeply to the east up to McGuire Lake which was prettier than I had remembered. There was no Lewisia leeana to be found. I climbed further east toward Guest Lake but didn't bother to go there. Instead I headed north on use trail looking for a place to spend the night.
McGuire Lake
I found a great campsite near the inlet stream to Horsehead Lake. Clouds had broken up and I a rain free night.
Campsite at Horsehead Lake
The most challenging day dawned cloud free. I hiked fewer miles but seemed to find ways to make things difficult. There was an abundance of subalpine and alpine flowers and some of the finest scenery I've seen this year. I reached the western Twin Buck Lake and hiked up its west side which turned out to be much more difficult than taking the east side.
South end of western Twin Buck Lake
I worked my way down to Crabtree Lake then hiked through meadow and forest to what I thought was Lucifer Pass 2. Toward the top, my route took me through a vegetated area that didn't look familiar at all and had no use trails or footprints. I had chosen a path east of the easiest route. When I got to the top I realized my mistake and headed west toward Lucifer Pass 1. When it came into view I was shocked to see it was choked with snow. I brought no snow equipment so had to find a different route down.

I moved east and found a series of steep granite shelves, some that made me very uncomfortable to friction down, interspersed with large blocks of talus, some of which were looser than I liked. My gps tells me I spent hours taking this second path. My route is the dashed line on the map. The prefered route is in red.
Granite shelves and large talus piles east of the easy pass
Once I reached the meadow at the base of the rocks, going was much faster. It was getting late though. The sun was setting before I found a camp site. It wasn't developed but all I needed was a flat spot to sleep on and a flat rock for preparing meals. Even though the sleeping spot was very bumpy and it sprinkled a couple of times in the night, I managed to get a good night's sleep. The next morning, I took a picture of the beach on Devil's Punchbowl nearest my camp.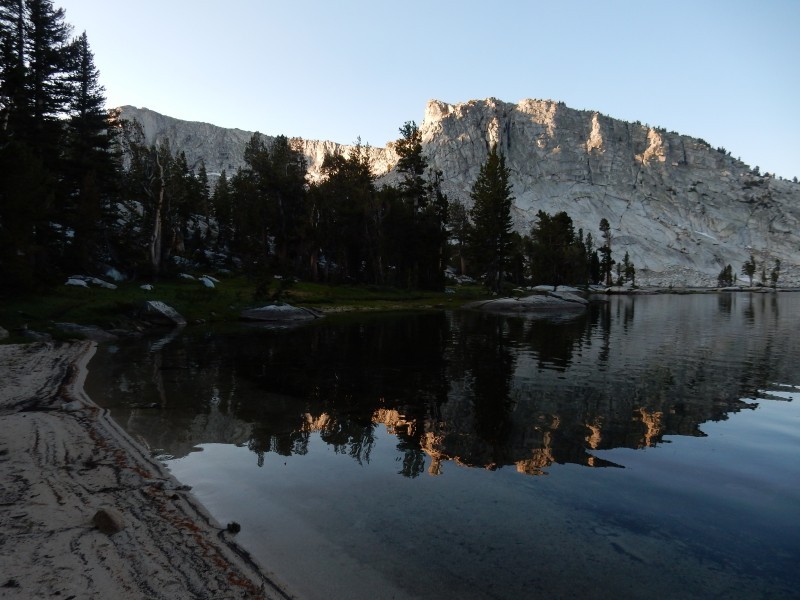 Beach at Devil's Punchbowl
I was concerned because the last day was to be the longest of the trip. After an hour or so on the trail, the sky became red from smoke and remained that way until I dropped from the ridge above Post Corral Meadow. The smoke on the ridge obscured the view toward Dogtooth Peak and the Three Sisters.