Bench Valley
22-25 June, 1989
by Bill Finch
Day 1
This was my first hike after my first year of teaching high school. I was in poor shape and overweight, having neglected workouts during a hectic and demanding year. On top of that, I was recovering from a cold. I didn't get on the trail at Courtright Reservoir until 11. I made it to the North Fork of the Kings River a little before 6. I shared a campfire with nearby neighbor and didn't get to bed until 10:30.
Day 2
Head and upper chest were still clogged up but I managed to get on the trail at about 7. Took the very steep, direct route next to Fall Creek which led into Bench Valley.
Wahoo and Holster Lakes
Got to Six Shooter Lake at about 4:30 and started fishing the nearby lakes.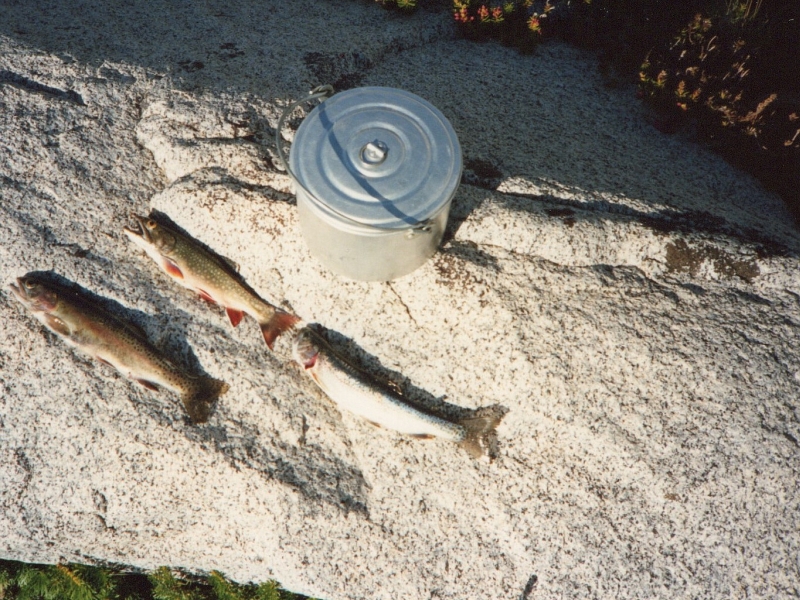 Trout from Holster Lake
I had dinner at Holster Lake but moved back to Six Shooter Lake to a spot more protected from wind. Mosquitoes were intense. A marmot ate parts of my camp shoes while I was fishing.
Day 3
I waited for the sun to dry my bivvy sack and sleeping bag so I didn't get on the trail until after 8:20. By then the mosquitoes were waking up so it was time to head to the Red Mountain Basin. I headed down Fall Creek and beautiful Crabtree Lake came into view.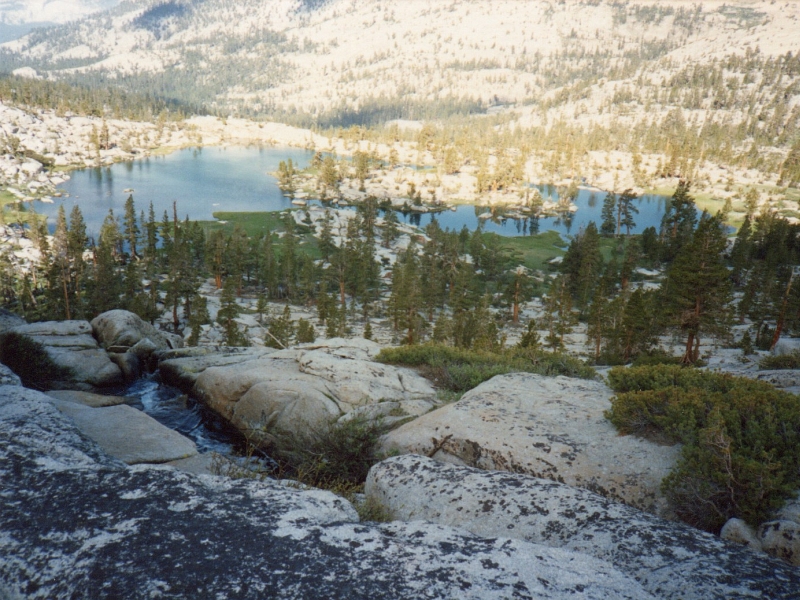 Crabtree Lake
From Crabtree, I headed northwest toward Two Passes which was west of Mt Hutton which soon came into view.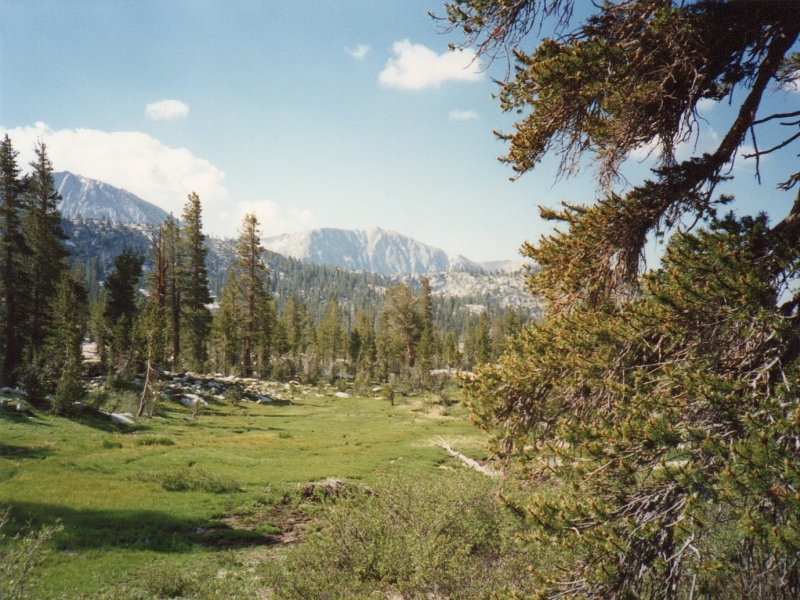 Mt Hutton from the south
I headed north from Two Passes and had a great view of Red Mountain and Blackrock and Disappointment Lakes.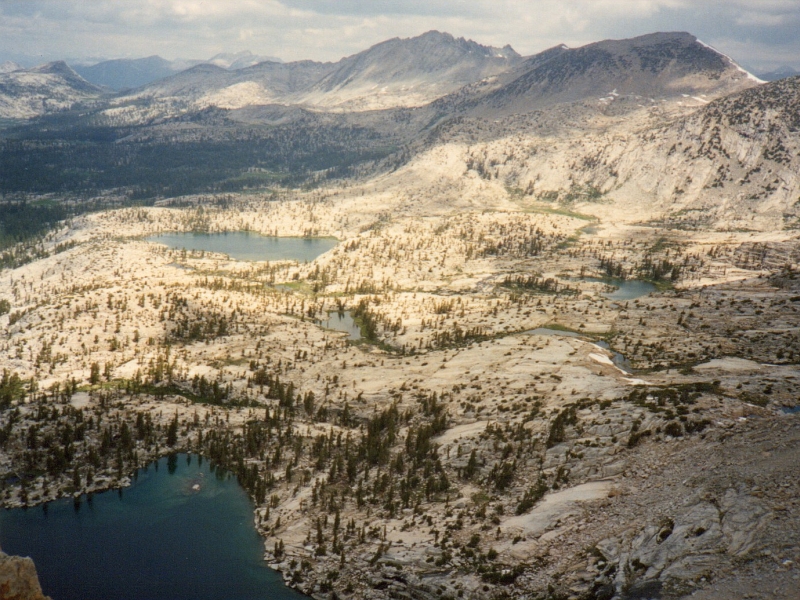 Blackrock and Disappointment Lakes and Red Mountain Basin from west flank of Mt Hutton
There was a great view of Devils Punchbowl and Big and Little Shot Lakes from the western of the two Passes.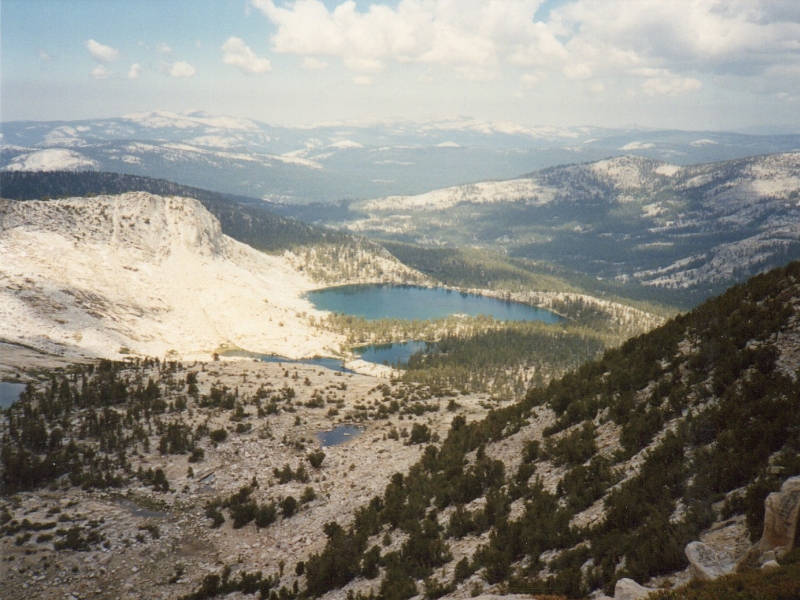 Devils Punchbowl and the Shot Lakes
At 12:30, I was at lovely Big Shot Lake above Devils Punchbowl where I looked back toward Two Passes.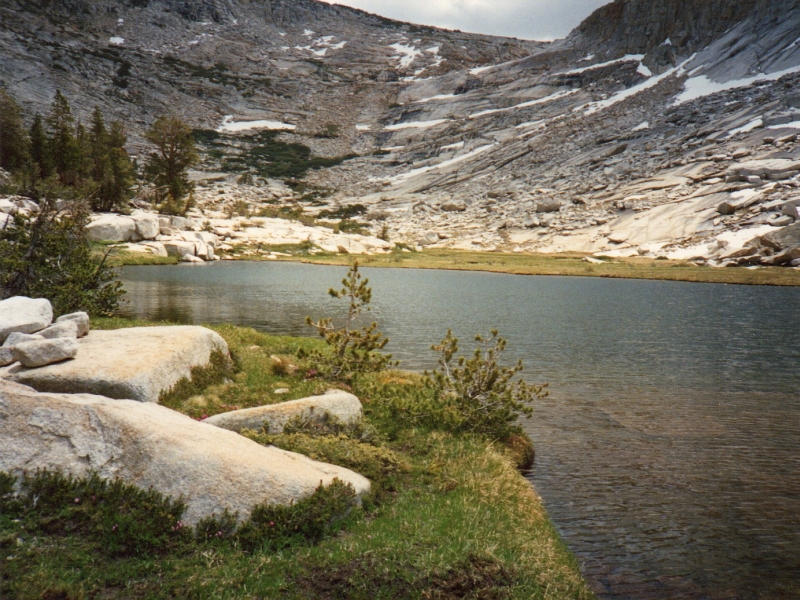 Toward Two Passes from Big Shot Lake
At Devils Punchbowl, I got back on trail which took me past lovely pools formed along the outlet stream from Disappointment Lake.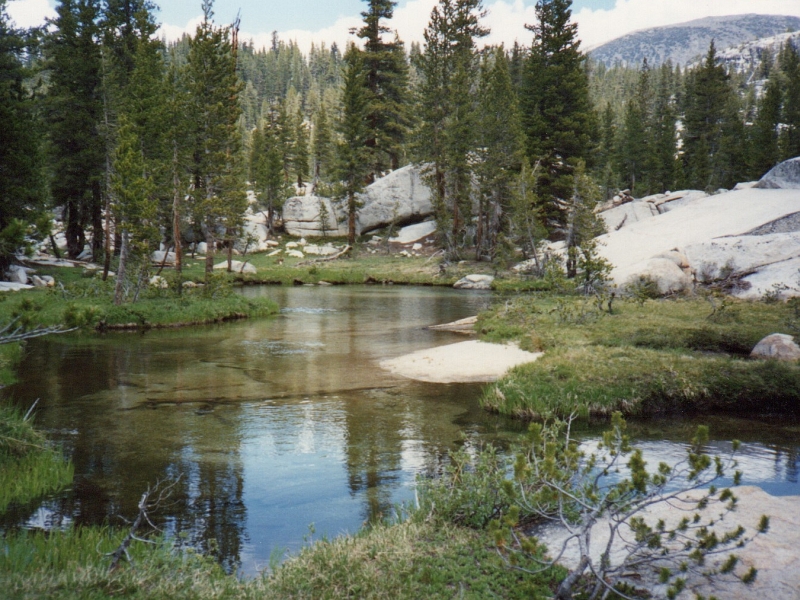 Pools on outlet stream from Disappointment Lake
I continued to the junction with the Hell-for-Sure Pass trail where I turned west. After a mile or so on trail, I left it for Dale Lake where I arrived at 3:15. I found a nice, windy camp site which was fairly mosquito free. I dropped my pack and enjoyed views of the surrounding area which included Mt Hutton and Mt Goddard and Fleming, Rae, and Lower Indian Lakes. I caught four nice brook trout for dinner and guessed I'd not be losing any weight on this trip.
A little before 6 that evening, I heard a total of 17 rifle shots which sounded like they came from Lower Indian Lake. It was the next day before I could even guess at the cause for the shots. After dinner, I circled Dale Lake, noticing a number of other camp sites. I decided I had somehow lucked into the nicest one. I was treated with alpenglow on Mt Hutton over Dale Lake.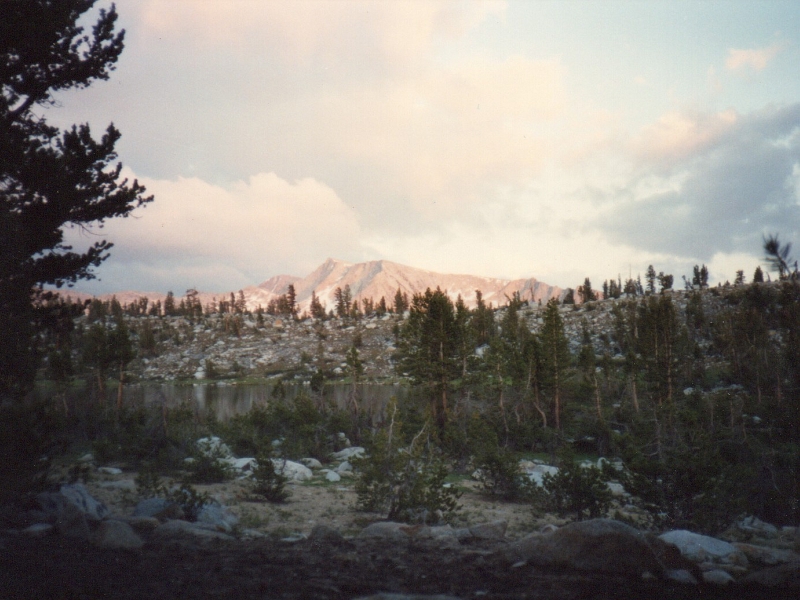 Dale Lake and Mt Hutton in alpenglow
Day 4
The wind blew hard from 2 in the morning until 6. I got up at 5:30 and was ready to go at 7. The sky was clear unlike yesterday's cloudy sky. I probably should have spent a little more time in Red Mountain Basin but I headed straight for the trailhead instead. I was at Post Corral by 10:30, I passed the Hobler Lake turnoff at 1, and reached the trailhead at 2:30.
A mile or so before I got to the trailhead, a cowboy riding the longest-legged horse I've ever seen passed by. He had a rifle in a scabbard attached to his saddle. I didn't have the presense of mind to ask him about the gun. I speculated that he was invited to visit the Red Mountain Basin to deal with a problem bear.